With so much uncertainty around us, it is easy to let our productivity slip and succumb to the worry. However, whilst we don't have control over what is happening, we can control our mindset. Personally, one of the best morality boosters is crossing things off my to-do list. If you are not sure where to start on your own list, I have created the following article with seven mini-marketing projects. This guide will help you maintain mental stability during these trying times, and boost your business with a new competitive edge. So, instead of Googling another article about COVID-19 pandemic, I propose we get cracking!
1. Upload and organise all of your files on the cloud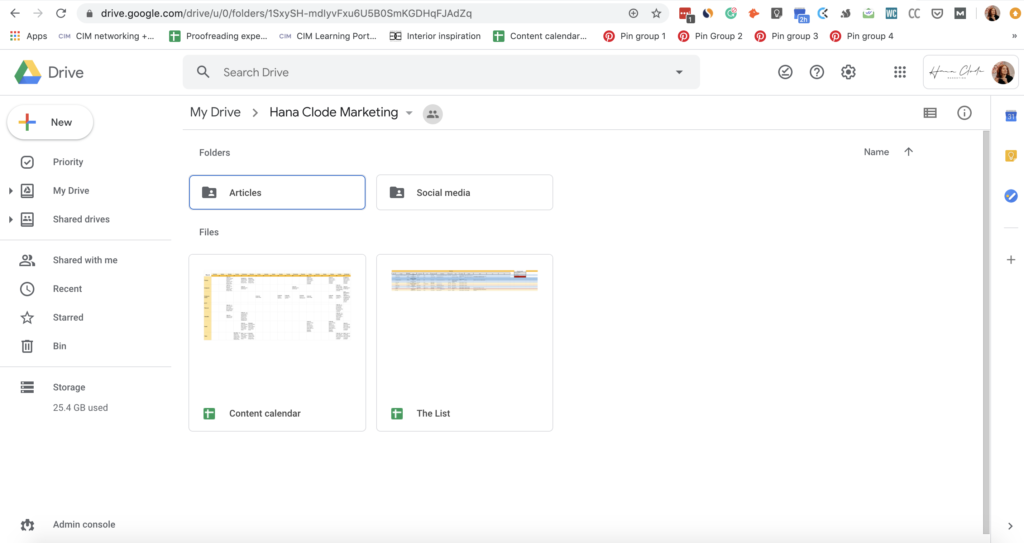 Do you ever struggle to quickly find the file you need? Now you have a perfect opportunity to address this issue and create a new intuitive filling system, which makes finding documents a breeze. Why do I recommend you upload it all to cloud storage? You will benefit from being able to collaborate on documents and have access to them from any device. This is particularly important if anything happens to your computer as it will save you the headache of losing important files and data.
Best cloud platforms to store your documents
Google Drive – this is the one I use for my business as it offers unlimited free storage to everybody who is subscribed for Google Marketing Suite. It has many different integrations and supports everything we need. However, as my team works remotely, I particularly like the ability to see real-time changes in the text. This allows me to keep an eye on updates and know how long everything takes.
Dropbox – offers very similar tools and integrations to Google Drive, we have used it in the past and don't have any complaints. A monthly package costs £9.99 and gives you 3 TB of space, which is more than enough to store everything you need. We stored several folders of high-resolution photographs in RAW and never came close to filling up 1 TB.
How to organise your files on cloud storage
When it comes to the best way to organise your files, there is no such thing as one-size-fits-all. Storage and organisation will vary from business to business. However, there are some good practices which can help to guide you in designing a filling system that works the best for your business.

Select whether you want to organise your files by project, date or organisation.
Create the head folders and subfolders in the logical order.
Set up different levels of permissions and secure confidential files with passwords.
Create an Excel spreadsheet mapping out the structure and file locations, which your team can use as a guide if needed.
2. Organise and secure all of your passwords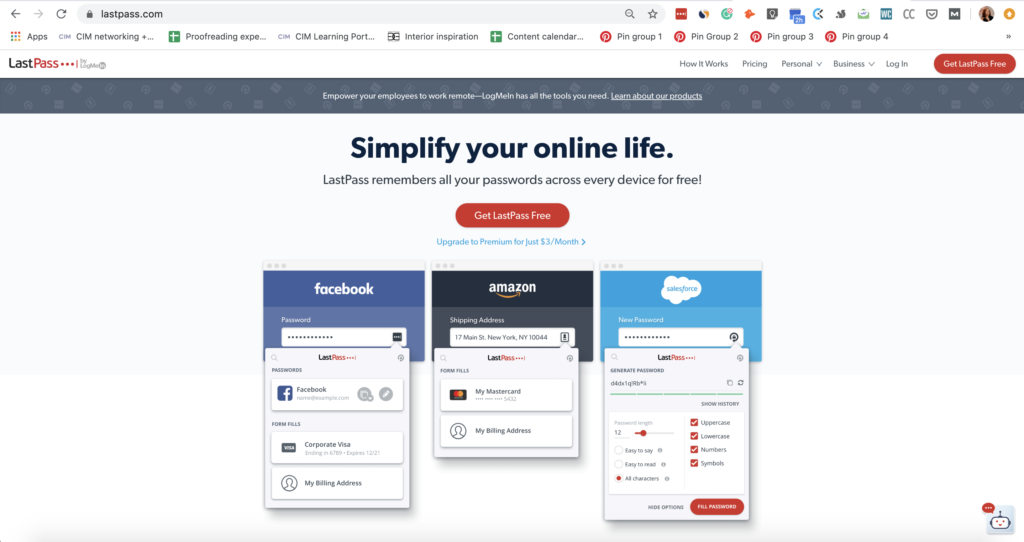 Did you know over a third of all passwords get reset at least once a month? That is a lot of time spent requesting new login details. This issue can become an even bigger productivity-killer if you are trying to track down the details of a colleague who is away. Use this time to get on top of this common problem of uploading and organising all of your company passwords in a secured online vault.
Best password vaults
LastPass password manager– Fantastic app which I have been using for years and recommending to everybody I know. LastPass is very easy to use and it allows you to store other confidential data, such as card details. I also like that it allows me access to the password vault from all of my devices and nudges me to save new details every time I log in for the first time.
How to use LastPass password manager
I am such a fan of this app, I actually created a whole article about Lastpass, which takes you step-by-step through the initial set up and gives tips on how to use it. Check it out!
3. Update your website images and text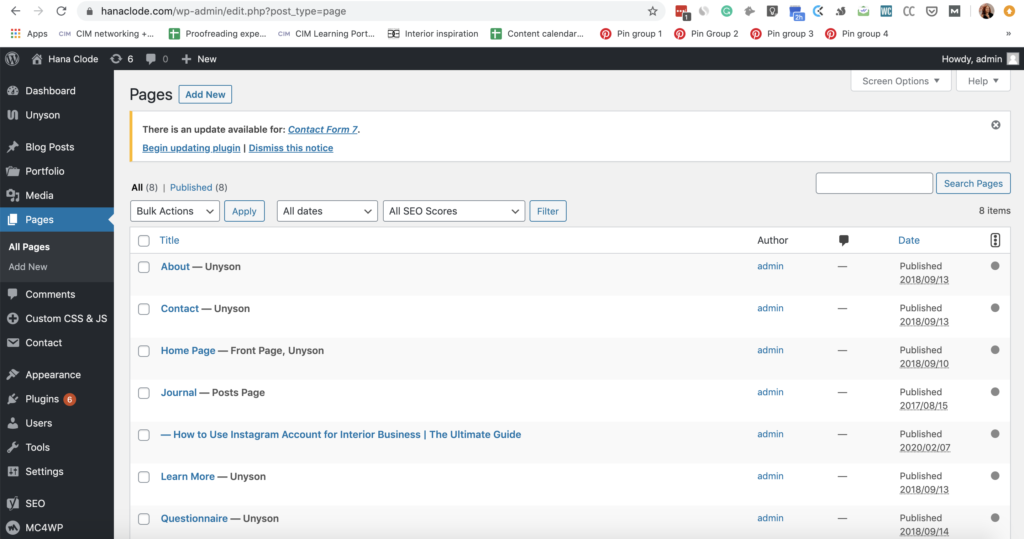 While redesigning your whole website is something you probably would want to leave to us, you can give your website a whole new look by just updating images and a website text. You might have finalised an amazing new project, but haven't had time to put it on your website. Perhaps your clients have shared lifestyle images of your product, which you were going to upload to the website at some point, but who has the time? Well, now we all do!
Most popular website content management systems
While larger businesses usually have their CMS created specifically for them, the clients we work with usually use either WordPress or Squarespace.
How to update your website on Squarespace
How to update your website on WordPress
How to update your website images
When uploading new images, take your time and describe your image in the section 'alternative text' or 'alt text'. You can use up to 125 characters (including gaps). It will help to optimise your images for the search engines and give you a nice little boost in organic traffic.
How to update your website text
When you are writing a new website text, I recommend going section by section, from short to more complex. You can start by creating an attractive call to action for your contact page and mailing list subscription. Continue by expanding project descriptions or product listings and work your way up to the sections which take more time, such as 'Process' or 'About us'. Leave the landing page for the very end, integrating the changes already done at other pages.
When optimising your website, firstly, try to think about questions your potential clients might have as they are browsing your website and try to organically integrate the answers in the text. Secondly, write down a couple of keywords your potential clients are likely to use when searching for your business. For example 'Interior design Kensington' or 'Luxury furnishing fabrics'. Try again to organically integrate these words. Try to use them in headers and the body of the text, but avoid 'keyword stuffing' as this could actually get your website penalised. 'Keyword stuffing' is when you try to repeat a phrase or set of specific words again and again throughout your website with little reason or context. Always optimise for the people, never just for the search engine!
4. Create email marketing templates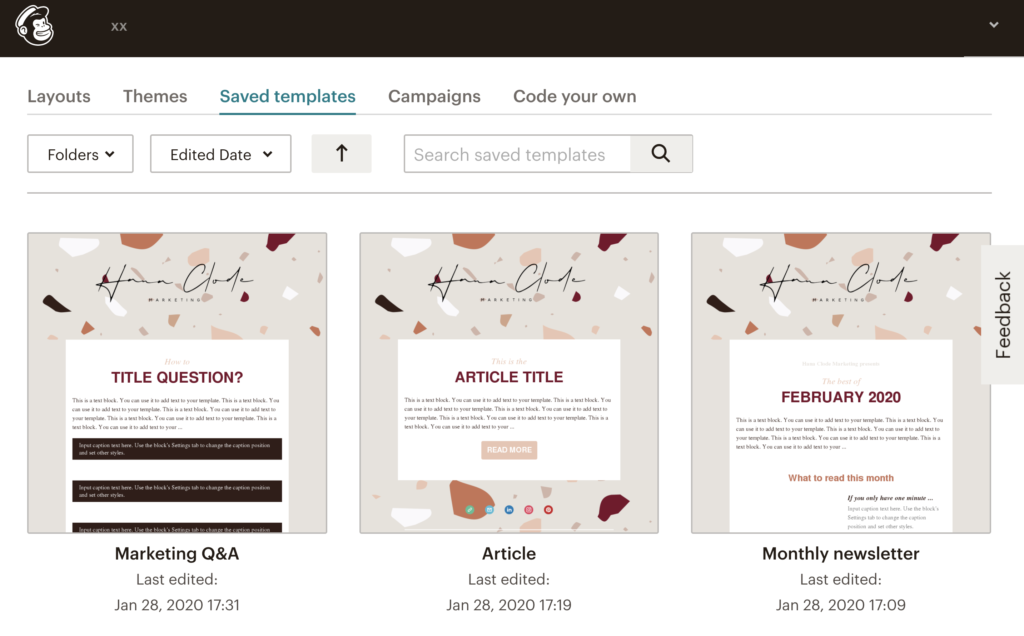 Nowadays with all the GDPR rules, the act of somebody entrusting you with their email address shows significant interest. It is almost as if they said: 'I want to buy from you, but just not yet.' Sending a regular newsletter or an email blast is a great way to stay in your prospect's minds. Therefore, make sure to treat your email list with the respect it deserves. Start by creating templates which do proper justice to your business.
Most popular email marketing platforms
Mailchimp – one of the most popular choices among small to mid-sized interior businesses, with a free basic account. It is fairly easy to use and offers enough customisation options. Drip, ConvertKit and Constant Contact are all great options for product-based businesses which use their mailing lists to sell. They have advanced features with intelligent CRM and while they are not cheap, they will save you plenty of time and money though email marketing automatization.
How to create an email marketing template on Mailchimp
Firstly consider what type of emails you use. It will inform how many and what types of email marketing templates you will want to create. In Hana Clode Marketing we currently use three different types of email marketing templates – monthly newsletter, another one to announce the new article and different one for the marketing tip of the month. Common email marketing templates for interior businesses include a newsletter, product/project intro, sales promo and event promo.
For the step-by-step guide, watch the following video:
5. Refresh your Instagram profile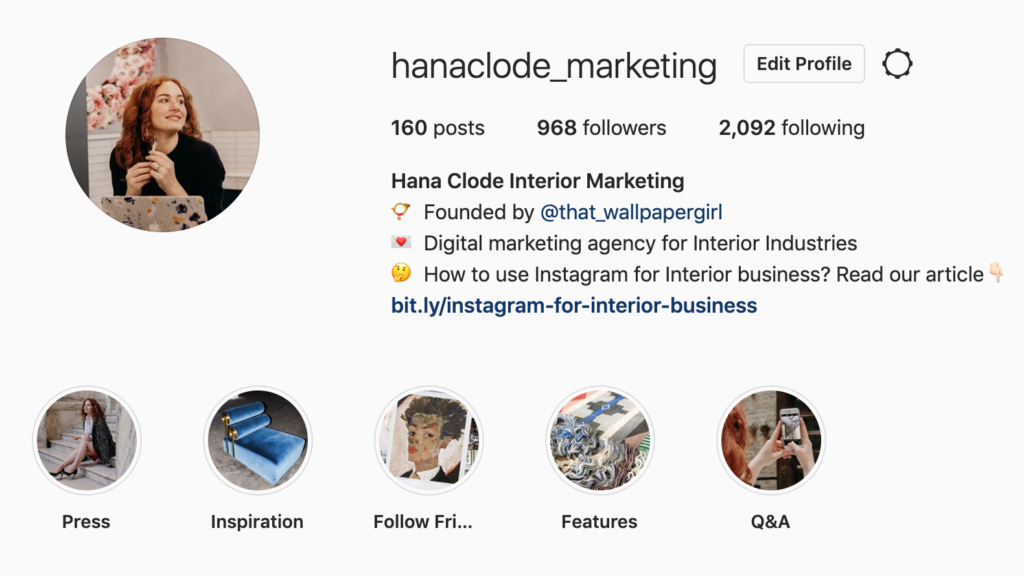 Hand on heart, when was the last time you updated your Instagram bio? Or your profile image? Having a profile that is visually appealing, up-to-date and quickly communicates what you are about amplifies all your Instagram activities. Therefore, take a little bit of extra time and make it an attractive calling card for your business!
Examples of great Instagram profiles
Specialisation
Locations
Awards and recognitions
Website link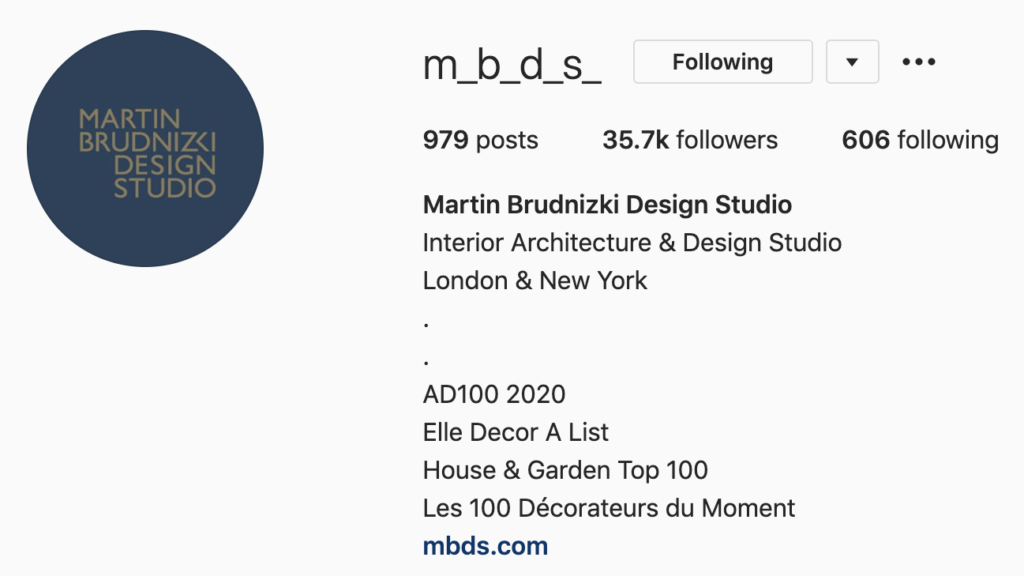 Sophie Robinson – promotional, personal, engaging
Specialisation
Products and projects
Branded hashtags
Call to action what to do next + website link

Specialisation
Website link

How to update your Instagram profile
There is a whole section describing step-by-step how to create an amazing bio and select the right image for your profile in my article 'How to Use Instagram Account for Interior Business.' Head over there to check it out!
6. Update your profile on online directories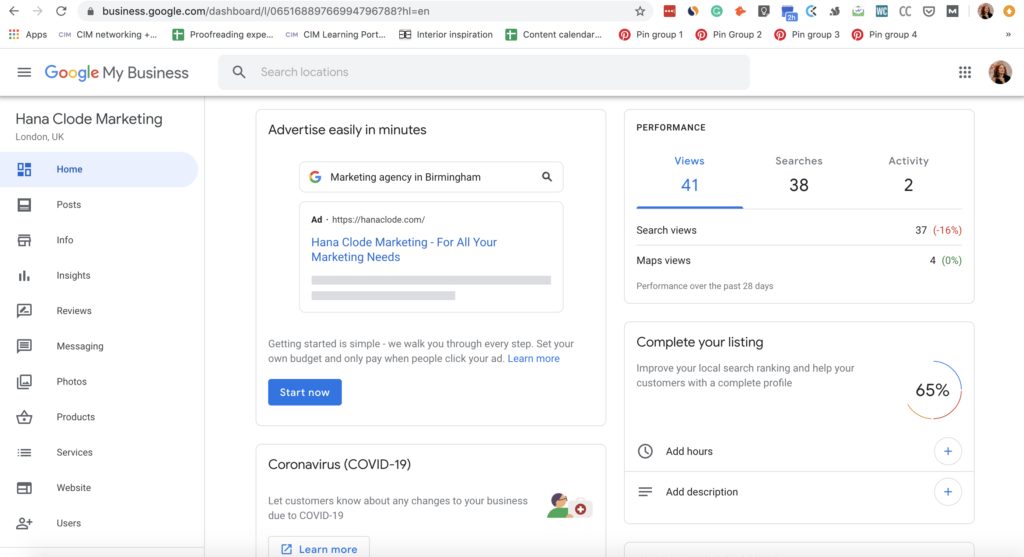 There are many different touch-points through which people can discover and experience your brand. Online directories are arguably one of the most underestimated (and under-cared) sources of website traffic. I can never understand why some businesses decide to publish a half-empty company profile, especially when it is a listing with a subscription cost. Profiles on the online directories are listed side-by-side with the competitors. Therefore, a well-presented profile can give the directory visitor all the reasons to click on your company, instead of competition.
Popular interior directories
BIID,The List, The House Directory, Houzz, Google Business
How to update your company profile on online directories
Firstly, select a couple of the best images and have your company logo ready. The most time-consuming part is creating a short summary about your company. If you cannot use a section from your website, I recommend sticking to the structure which answers all the questions potential clients might have:

Who are you?
What do you do?
Where do you do it?
Whom do you do it for?
What is your expertise and experience?
What are your unique selling points/point of difference?
Awards, industry recognitions and accomplishments?
How can they contact you?
What would you like them to do next? (Call to action)
Example – Holland Street Kitchens' BIID profile: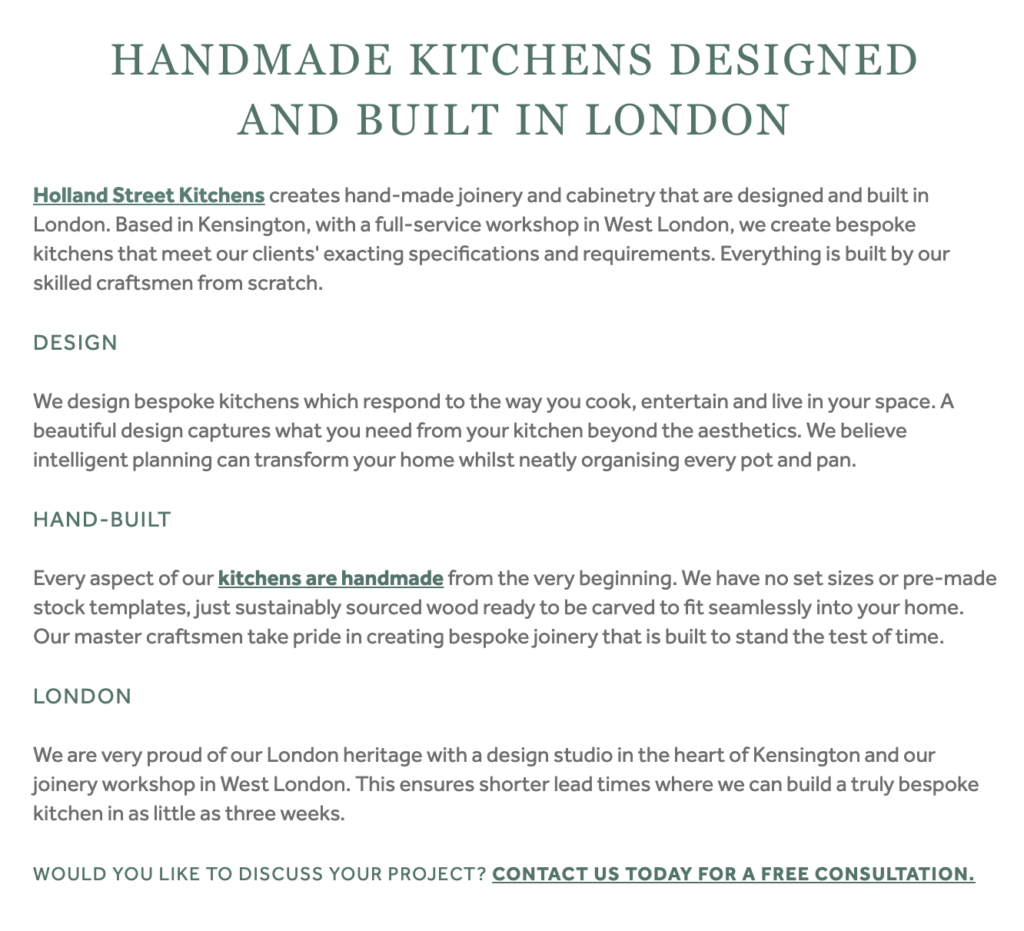 Some websites allow you to upload presentations of the individual projects or products. If a website attracts a specifically targeted audience, like in the case of BIID or The List, take your time to upload and showcase your best work.

With other directories, such as Google Business or Trustpilot, you don't need to go into such depth. Simply fill up your profile, upload the company introduction and two to three selected images.
You only need to do this once and when it is done you can benefit from improved Domain Authority and increase in the referral website traffic.
7. Create email templates for Frequently Asked Questions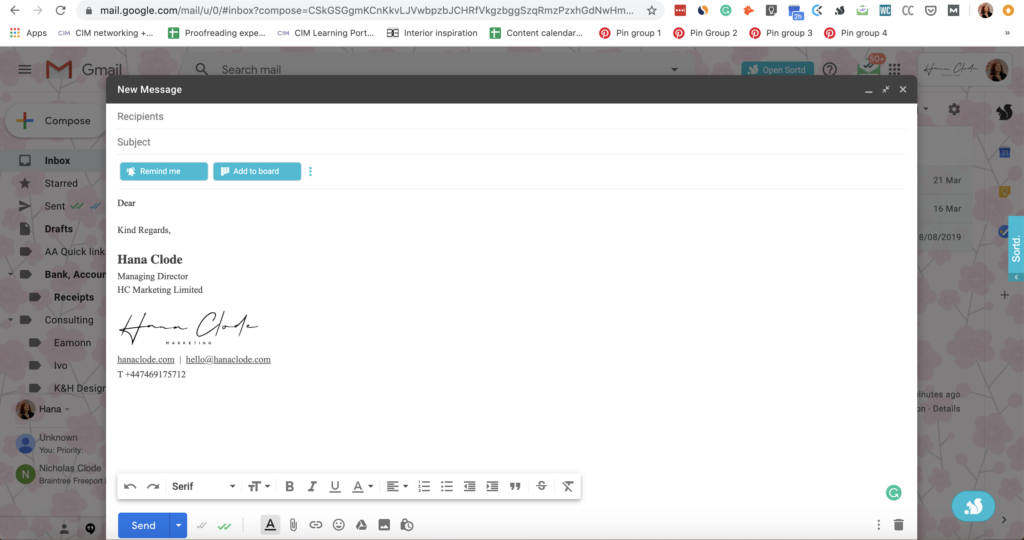 Having to retype the answer to the same question over and overkills your productivity. While it might be only a couple of minutes here and there, it quickly adds up and before you know it, you are losing hours every month doing repetitive tasks. I am a big fan of automatisation when it comes to any action I need to do on a regular basis. You don't need to be a tech geek to benefit in the same way.
Examples of frequently asked questions
Service-based interior businesses – Interior designers, design and build companies, etc.
What type of projects do you do?
What is your usual budget?
What area(s) do you cover?
How much do you charge?
What is the usual lead time?
Product-based interior businesses – Fabric suppliers, furniture manufacturers, lighting specialists, etc.
What is the lead time?
Can I get a trade discount?
Do you deliver overseas?
Where are your products made?
What materials do you use? Where do they come from (sustainability)?
What is your warranty cover?
Can I request a custom size/colour/material?
How does it affect the cost and the lead time?
Do you do any repairs?
How to create an email template for FAQ
Firstly, go through your recent emails and compile a list of questions and answers which you frequently received. Go through your responses and consider if you need to add any more information. Take out any specifics to create a customisable template.
Next, upload a template to your email account. The process will vary platform by platform, this is how you do it on Gmail:
Summary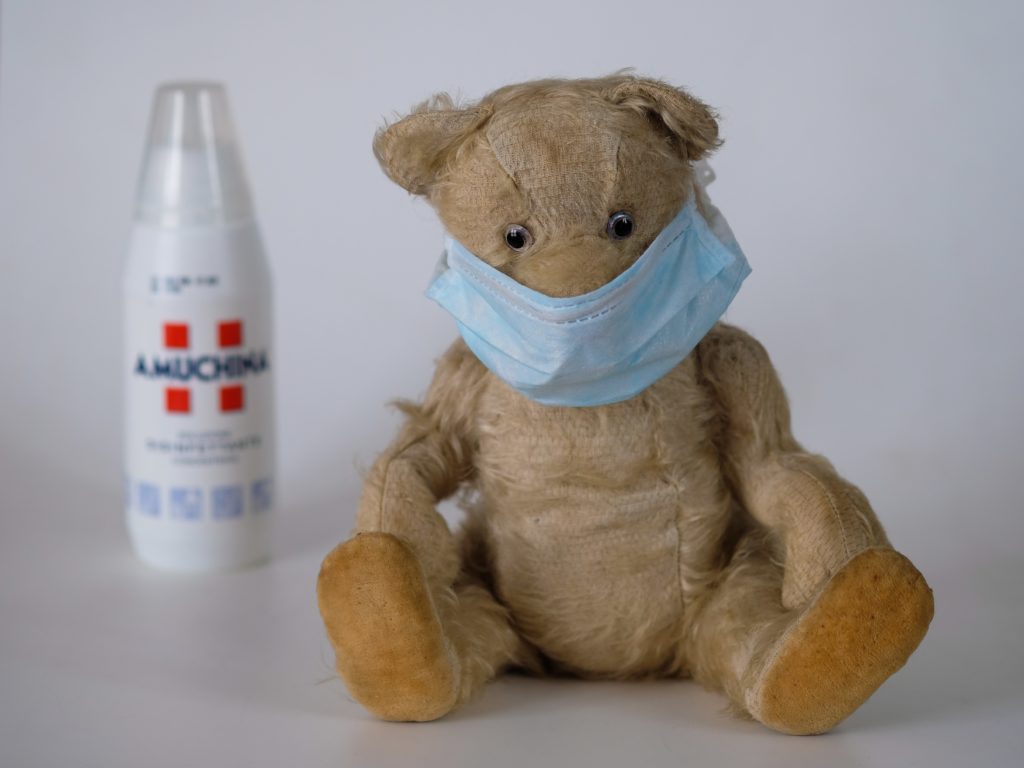 There isn't much we can do about the current situation except follow the official advice from the NHS and the Government. However, there is a lot we can do to improve the way we feel. Use this extra time to do some good work, stay safe and by the time this all passes, we will be better and stronger for it.